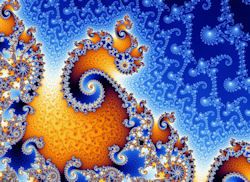 Recently a commenter here at the ModernDeist.org wrote the following, "What if morality was written into the code of creation itself?"  Great question but before I go on, you should know that this commenter is someone I know.  This someone is Christian, so like most questions, it is always angled to make the point, "this proves my version of God".
So first I will dispel that argument, this way.  Whether the God of the Bible does or doesn't exist is irrelevant to the question, period.  "Morality" could be written into our code by the God of Deism, by the God and Goddess or the Pagan or by the pure evolution of they atheist.  The atheist would say over time those groups with morality survived at higher rates and developed structure.  Said structure via imprisonment and penalty of death, caused humans to accept "morality" and pushed a lot of those who would not, out of the gene pool.
This type of thinking is what makes discussion with a Christian difficult.  It seems that anything that leads one to believe in creation is to them proof of their version of it.
Still the question is great, is morality and the evolution of said morality part of the code of creation.  I would say that it is.  As I previously blogged basic morality and ethics are observable in animals far less advanced than humans, and not just ones we have trained, either.  See this post for examples of that.
I guess the first question would be are we born moral?
This is difficult to answer, more than you might think.  We are born unable to hold up our heads, barely able to do more than puke, drink our mothers milk and crap on ourselves.  We really can't look at the behavior of a new born and ask is this child moral or not.  It will be at about two years of age where the child is truly mobile and functioning high enough to make that judgment.
So are two year old children moral?  The parent in us want so say so innocent, etc, but that is bullshit!  Two year old children are selfish, demanding, they steal, they bite, they throw tantrums and I have seen many hit other children and animals for nothing more than their own amusement.  I am going to say, no, we are not born moral, we are taught morality and develop during our growth as humans.
Let us shelve taught morality for this post and come back to it later.  It is a big can of worms and one can be taught something as moral that is actually horrific.  For today let us just discuss developed morality where real life feedback apart from other humans is our teaching tool.  Here is a classic one.
A young boy with a BB gun shoots a bird.  He likely had to work hard to do so, sneak away where he would not be seen, get a clean shot, make a good shot, etc.  Unlike the TV where Johnny does this on his first shot in his back yard, there is a lot of missing and hits that don't take a bird out before one goes feet up and drops to the ground.  Also what the TV doesn't show is that such a hit likely doesn't kill the bird, it mortally wounds it and Johnny watches the bird die or must finish what he started, for the bird to not sit and suffer.
Once it is over and Johnny buries or hides the bird and "gets away with it" he is likely to have remorse.  He will realize that this death was senseless, that the bird may of had babies that are now alone, etc.  He doesn't need a wood shed to have this feeling, trust me I know.  Johnny may grow into a man who hunts and kills many animals, he may have a small farm and slaughter many for food and not feel remorse for it.  But he likely will not kill anything ever again unless the death serves a purpose.
In this example the morality is learned, yes, but it is also hard wired in some way.  It is not learned like say touching something hot that physically burns Johnny.  Unless Johnny has something inside of him that says, "senseless death is wrong" there is no reason for him to change his behavior and not kill say thousands of birds.  So yes I believe on some levels basic morality is wired into our DNA.  Emotions like regret, doubt, remorse and emotional pain are the checks that force us to find it in time.
I see it a lot like walking, the ability to walk is wired into our DNA.  Even if a parent never teaches a child to walk the child if well cared for and if left to itself will walk one day.  It will first lean to roll over, then to crawl, then to use objects to pull itself up, then to walk.  A child is not born able to walk but it is born with the ability to walk coded into it.  So the fact that we are born before our morality is developed doesn't mean we are born without it coded into us.  Just as we must develop to realize our coded capacity to walk, we must develop to realize our coded capacity for morality.
Then there are children who should be able to walk but can't.  Something is broken, some will learn to walk anyway and some will live life in a wheel chair.
I think this can happen with morality too, a child should be born with the capacity to develop morality on its own at least to a degree but some are born with something "broken".  We call these people psychopaths.  This is the Johnny that kills the bird and has no remorse but enjoyed it.  He enjoys it for a time but then it becomes boring and he moves on.  He may kill or injure higher life forms or even people.  Sometimes if the psychopath is highly intelligent he/she realizes they must blend in.
Instead of a life of crime they go into "legitimate roles for psychopaths".   Such are positions of power in Government, Business, Religion and Military occupations.  This is not to say that all in such roles are psychopaths, most are not.  It is to say that intelligent psychopaths generally take over top leadership roles in such institutions and use the power of them to harm and control others.
I finish with this thought because in the next post I will discuss taught morality.  And on that, we have to acknowledge something.  You can successfully teach real morality, "do not harm others", etc.  You can also successfully teach false morality, "it is okay to keep blacks as slaves" and have otherwise moral people believe it.
Well if morality is "written into the code of creation itself" one must account for such teachings being accepted.  In the end though I think history shows that we if not damaged, do have morality written into our genetic codes.  But that is for the next post.
by