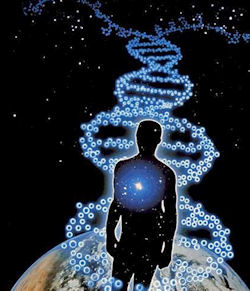 In part one we examined what I call the natural innate morality that I do feel is written into our code as beings, assuming we are not damaged some how.  We can be damaged from birth, for instance a true psychopath has no empathy.   Before I continue in part one of this series commenter asked if a person is born broken, is there any hope for them.  I want to answer that before moving on because I find it highly relevant to what we shall examine today.
The answer is, it depends, how broken are they?  Some are born with no ability to walk, of those some can walk eventually though not very well, some can become Olympic sprinters and some will never walk.  So the truth is, how bad is the damage, what therapy is offered, what therapy is possible at our current technology all play into a final answer.  One couple may have a lame child but be financially well off and educated.  They may ignore the doctor who says there is "no hope" and seek out someone who can do something, pay for it and their child may walk.  Another child may be born to poor and uneducated parents, they may just accept there is no hope.  Hence of two children born with the same potential to walk, only the one with the greater opportunity to walk will realize it.  I believe it is the same with most people with what we call mental impairments.
To make it more complex, the child today who will eventually walk may never have no matter what station they had in life if they were born say 100 years ago.  In fact many children who are born ill yet live wonderful lives today, would have died at childbirth or soon after just 100 years ago.  So as our knowledge increases if it is properly channeled our ability to heal increases.  What is the limit of that progression, we don't really know do we?
Now let me say I am no fan of the psychological industry and I hate the over use of psychoactive drugs.  I also think most diagnosed "mental illnesses" are bullshit, and that true psychopaths are very rare.  Most people are "damaged" by their environment and most can be helped.  Even then though, how much, well, again how bad is the damage?  It is easier to fix a skinned knee then a broken leg.  It is also easier to fix a broken leg then a severed arm.  So can we install morality in those who have accepted truly criminal behavior as acceptable?  Depends on how bad the damage is.  Just like PTSD, some get over it, some deal with it their entire lives but function well and for some it destroys their lives.  This of course has both to do with the damage and the will, potential and fortitude of the individual.
This all plays well into the segment of morality I want to discuss today, that of "taught morality".  Technically this is also "learned morality" which I described in my last post.  However, for the sake of this discussion I am calling "learned morality" the morality gained from individual interaction with the world.  Doing things and feeling either remorse or love or passion from those actions.  Taking those feelings and shaping morality in your own life with them.  For instance in the last post a young boy named Johnny killed a bird with a BB gun.  Though he wasn't caught or lectured he felt remorse and learned never to take a life unless doing so had a purpose.  Killing a bird to feed yourself was one thing but leaving a song bird to die in the bush for no reason was another.
In this post "taught morality" is what I want to dig into because it digs deeply into our innate moral code and how environment can damage or distort it.
Again realize that much of what the TV and politicians would lead you to believe about psychopaths is false.  Most are not serial killers and rapists, not that they would not do these things given the chance.  The key is they are rare, (about 1% of our population) and that they are generally intelligent.  This makes them adaptable, then tend to end up in positions of power.  Since psychopaths tend to not feel any love or empathy they derive pleasure from controlling others and taking what they want.  Since they are intelligent they know a prison cell is not a good place for such things.
So as I said in the last article by being both smart and willing to do what others won't (for moral reasons) such people usually end up in positions of power in corporations, government, military positions etc.  Again not all such people are psychopaths, but many are and these many have a huge influence over society.  They then use such influence to alter morality for the masses.
So coming back to taught morality, most parents teach their children that violence is wrong unless it is in defense of your personal safety or the safety of another who is innocent and needs your help.  Libertarians call this simply the "non aggression principle".   Many such parents though will blindly back wars where young innocent children are blown up by bombs and simply called "collateral damage" by the psychopaths running the show.  In other words properly marketed and sold, that which is immoral can be taught to others as being moral.
This was clear in the slave industry in the US.  For years people were taught slavery was moral, hell the bible said so!  Making another human your property was okay, it was fine, no problem at all.  Children born from birth were taught both as sons of owners and sons of slaves.  Yes the slave too in time was conditioned to believe that his captivity was acceptable!  Many in fact didn't know what to do at first when the "War Between the States" ended.  Yet why did slavery end?  It didn't end due to Abraham Lincoln for sure, the man was a racist and a statist!  He did what he did in his own words "to preserve the union", and had he been able to do so by "freeing none of the slaves" he would have done so, again in his own words.  You can read the letter where he penned these thoughts here.
No slavery wasn't ended because one man was moral, slavery ended because people in spite of conditioning by psychopaths knew in their hearts and souls that slavery was immoral and continously fought back against it.  This even included racists who were unwilling to let go of that immoral conditioning but still understood slavery had to end.  What this shows is indeed morality is in the code of creation.  There was a 100% conditioning in the early US that slavery was okay, from all levels of government and industry.  Today the south gets all the blame but northern industry was the group making raw cotton into cloth.  It was the federal government (the Union) that allowed enforcement of the Fugitive Slave Law.  There were also many abolitionists in the south, though speaking out was considered more dangerous.
You see this is the second tool of the psychopath, the first is programming, get the majority to accept your twisted morality as right and decent.  Next in step two you use fear, intimidation and slander to silence those who don't accept the programming.  When that fails you use actual violence to silence those who won't shut up.  The most clear event in recent times of course would be Nazi Germany.
Psychopaths are adaptive though, today you ahve people waving flags, chanting U-S-A, U-S-A, to support a war where children are murdered.  Such people generally have sacrificed nothing in this war, they don't do the fighting.  If their relative dies in the war said relative died as a combatant and chose to serve.  Often the flag waver tries to equate their loss with the loss of those who are actually on the ground.  Today a war means profits and jobs.  We don't even have rationing like in WWII.  The war is on another continent, the TV tells us what those in power want us to believe.  We are told to do things like "stand with Israel" over Gaza but most Americans sharing propaganda as FaceBook and Twitter memes could not point to Israel or Gaza on a globe if it were not labeled and yet they are willing to sanction bombing of apartments, because the radio host they like says it is the right thing to do.
Blind patriotism is but one form or immoral actions sold as moral actions.  Yet if most of these blind patriots had to see the harm, blood, death and destruction they were supporting I think they might stop the chanting of U-S-A and look at the faces of their own children and weep.  The anti war crowd of course is slandered as "liberal hippies" but many like me are Anti War, and far from being a liberal peace-nick hippy.    I have no desire to harm any man but threaten my family and you may very well meet the business end of an 870 shotgun, sound like I'm a hippy to you?  I am actually a former solider who served in the US Army Airborne.  I can tell you the most ardent anti war people I know, are soldiers who have seen combat.  Remember that please the next time you are told all anti work people are liberal, commie, pinko, hippies by your TV and Radio.
While anti war politics were in the air for a time as the "issue du jour" of the left side of the dichotomy they seemed to vanish the day our current president became president, did they not?  Might I point out this is a man that got a Nobel Peace Prize, while bombs were falling on children on his orders.  Yet some people have continued to say, killing innocent people is wrong, period no matter who is in charge.  Why?  Because we know it is true and we know who is doing the killing doesn't matter.   We are those who have broken the system's programming and who have a deep sense of morality.  Why?  It is in the human code of creation, that is why.
Most of the chanters and flag wavers do not support killing children, they actually don't have a clue that is what they are doing.  The programming is deep and far more sophisticated today then even 50 years ago.   However, as soon as most people learn the truth behind the programming they realize almost instantly that what they have been supporting is wrong.   They know bombing a wedding (which our current President authorized) is immoral.  They know it doesn't matter that a "target" was there, they know killing innocent children and non combatants was wrong.  Many hear about it and consider it leftist propaganda, but if you get them to think, everything changes.
Yes unless we are truly damaged, morality is part of what and who we are.  In fact I would say this is the number one reason people leave organized faiths and eventually find Deism.  Led by our morality we can't like let alone love a vengeful, jealous, murderous god and sure as hell can't worship him.  Inside us though is a spark, the spark of creation itself and deep feeling of what is right and wrong.  We know when we marvel at the mysteries of creation that in the words of James Kavanaugh "God Lives" eventually we figure out, that God indeed lives within us.  That we are all in Richard Bach's world, "Children of the IS" and ironically that includes the psychopaths.
On that note I would like to leave you today with the words of James Kavanaugh from the preface of "Too Gentle to Live Among Wolves" one of his best books of poetry in my view.  In the preface this is what he had to say,
"I will probably be a searcher until I die and hopefully death itself will only be another adventure. To live any other way seems impossible. If anything has changed over the years, and it has, I only feel more confident now about what I wrote then.

I am far more aware of the power that guides each of us along the way, and provides us with the insights and people we need for our journey.

There are, indeed, men and women too gentle to live among wolves and only when joined with them will life offer the searcher, step by step, all that is good and beautiful.

Life becomes not a confused struggle or pointless pain, but an evolving mosaic masterpiece of the person we were destined to become."
by