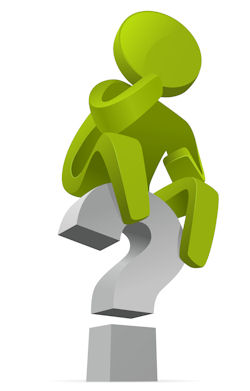 Let me say right up front this question actually pissed me off.  It wasn't from a person interested in Deism it was from a Christian who was angry that I had the damn nerve to be a Deist in the first place and choose it over Christianity.  Frankly it wasn't really a question it was more a demand…
Why is Deism Superior to Christianity!
As though I owed it to him to justify my choice, so much for free will!  The truth is I believe Deism speaks for itself and it is a choice, I have no desire to convert anyone from anything to Deism.  If any group is out there I most want to reach it is the atheist who I feel is missing out on so much and I know most have become atheists due to people like the guy that asked me this question.  They feel religion is so unbelievable that atheism is the only answer.  Most do not even know that there is such a thing as Deism or what it is.  Those people I hope do at least learn there is a middle ground but I also respect their choice.
Christians though I have no desire to convert because it is generally difficult to even discuss faith with them.  They tend to want to quote bible verses and don't get something that is so important for them to understand in talking with a non believer in their faith.  If you are a Christian please pay attention to this, I am not being offensive I am just trying to help you understand a fact
"When you quote the bible to people that don't believe in the bible you are no more likely to convince them of something then if you quoted something from a Harry Potter book"
Again I mean no disrespect we just do not believe what you do, your book has no power over us and using it is pointless with us.  You can chant John 3:16 for a hundred years and it won't "save us".   I don't object to debate with an open minded Christian but man is it more productive for both of us if they understand the above, sadly most don't and next thing you hear is "But in Romans 1 we are told" and they just don't get that we don't care what it says, you might as well say to us, "but Dumbledore said to Harry" because it will mean about as much to us.  We may see wisdom in some of it but we also find wisdom at times in things like a comic strip or a TV commercial too.
The person who asked me this question and demanded an answer was coming from this twisted view point.  It would not matter what I said he would have never been happy so I simply didn't respond.  I have no desire to convert this man to Deism at all.  He was looking for a fight and I simply didn't give him one.
My view is Christianity is full of reasons in its own book to doubt it as the "divinely inspired word of God"  hell the comparisons between Jesus and the Egyptian God Horus should give anyone pause, you can see them here.  God testing a man by asking him to kill his own son?  Stoning people to death for sin?  The only man worth saving in a city was willing to give his daughters to a crowd and allow them to be raped?  I am such an evil, vile piece of crap that Jesus took my place on the cross because that is what I deserve?  God who is all powerful and wise killed everyone in his own creation because he was angry? God who is perfect is jealous?  It goes on and on.  Most Christians that want to debate non Christians are well versed in this stuff and convince themselves they are right, they call it faith.
I don't bring up these issues to convince anyone who believes in the Bible in spite of them of anything.  There is no point to that, I only point out that they exist and any Christian with a conscious will eventually find them in their own hearts.  Some are so addicted to their faith they will accept nonsensical answers as fact and move on, others will begin to truly examine them though and it is indeed why many choose to leave what ever form or a Church they are part of.  It is for such people only that I will answer this question.
Further I must add, I am not answering it in the way I would answer why is one football team better then another.  I can analyze players for that, build a case, use their past records and make an impartial judgement based on known facts.  In religion much isn't known, it is about belief even for a Deist, much of what I consider to be true is based on what I believe based on logic and reason.  For that reason I can't say that Deism is superior to any faith for anyone but myself.  These are my personal top ten reasons I feel Deism offers me more then Christianity ever could, if you don't agree that is your choice and I honor your right to it.
1.  Deism isn't guilty of the false promise of free will.  Christianity says you have free will then instantly says you have rules to follow.  Not rules that you are guided by based on your own logic and reason but rules written for you in a book based on oral tradition.  I truly have free will as a deist and that I consider a gift of my creation.
2.  The God of Deism has never killed a child, hardened a heart, wiped out all life on a planet or sentenced anyone to an eternity of suffering for not doing what he wanted them to.  In short as a Deist I at no time have to make an excuse for a judgmental, jealous, malicious and murderous God.
3.  The God of Deism doesn't consider any group of people based on race, creed, sexual orientation, etc. superior to another.  In other words my god isn't a bigot.
4.  My God doesn't require worship, why would anyone want such a thing, specifically a perfect being?
5.  My God doesn't judge me he/she/it trusts that I am capable of doing that myself.
6.  The God of Deism has never resulted in a crusade, a witch burning, a holy war or death of anyone simply because they had a different belief.
7.  The God of Deism doesn't let me blame my failings on a mythical Satan which he himself created.
8.  The God of Deism has never gambled on the fate of a human being with an adversary such as he did with Job.  The Deist god doesn't gamble with human suffering for his own agenda.
9.  The God of Deism allows for a duality of the creator meaning possessing both masculine and feminine attributes.  There is no way a male entity could be all knowing this entity would have to have feminine attributes as well to understand its own creation.  In other words my God isn't a male chauvinist.
10.  Most importantly Deism doesn't claim to have all the answers, there is no guarantee of what happens when we die, how humanity will or will not fail to adapt to the future.  The end isn't written, as a Deist I know I am literally a co-creator with God, that my actions as small as they seem are actually creating a future that is of yet unwritten.  I know that I am responsible for more then just myself but yet I am free to choose how I help, who I help and why I do so it up to me.  There is no get out of jail free card and no opportunity to say anything doesn't matter because in the end we expect God to show up and establish a perfect kingdom anyway.
Again this is what I believe, personally.  I am sure someone like the guy that asked the original question will show up here at some point and be offended by this and try to save me or others from my line of thinking.  Just know you are free to believe what you want to, I wrote this not to change your mind but for the person who has already decided that they no longer will follow dogma and myth and is now exploring for answers outside of revealed religions.
by