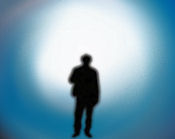 As I stated yesterday when I blogged about whether deists believe in an afterlife, it is quite simply true that you will likely get a different answer from just about every deist you ask.  A few may say nothing happens at least from your perspective.  They may simply say your time passes and your body and energy are recycled, in a true mechanistic way.  Though many others, dare I say most deists believe that some part of us continues and that it happens in a way that can only be defined as a continuation of our individual existence.  That is what I believe.
As to what it might be like, I have to start out with the only honest answer anyone can truly give; I don't know what it will be like.  We never will truly know until we die, even near death experiences (when legitimate) can only be a brief window into what might await us.
Consider if a person told you they knew what life was like in America even though they had always lived in say Japan.  What would you think if you asked this person how and they said, oh well I have been to America.  Likely that would open you to the fact that they might have some understanding of American life.  But what if you next heard they had only been to New York City?  Would such a visit really tell our Japanese friend what America was like?
Further what if they didn't speak much English?  So there was a language barrier as well to cloud their view into the American lifestyle.  Lastly what if you learned that this visit was very short, say our friend never even left JFK airport, they simply arrived, went to a restaurant at the airport, visited two gift shops and then boarded a plane back to Japan?  Do you think they would understand anything deeply about life in America?
So even the person that has a true NDE and experiences something akin to "crossing over" would not really know what the long term existence would be like would they?  Surely beings in this next plane use language at a higher level, surely there is more to see then one can experience while still bound by human ideas and limitations?  So my answer must be "I don't really know", if I am to use logic and reason in examining the question.
Though here are some things that the experiences of others and logic leads me to believe may occur…
I believe at some point, likely by our own choice we have a "life review" such would be filled with both joy and regret for anyone who lived as a human being for any significant period of time.  I believe this because those who died and came back report it and because it makes sense, if I died and still had my memories and individual consciousness, I would want to examine my life experience wouldn't you?  Additionally we know information once created always exists, so the information would be available.
I believe we likely are able to shape our own reality around ourselves at least early on.  We might be assisted by others with this or it might be all us, I just don't know for sure.  I believe this because it is the only explanation for the vast differences in NDE experiences.
I believe at some point we must make a decision about what to do next, where to go, what to become.  How many options are there, what limits if any exist at this point?  I have no real idea.  I do believe some may choose to reincarnate as humans once again, but I don't think it is trap like the Buddhists believe and I don't think it is likely as common as most who believe it reincarnation think it is.
I believe we do meet with others, share experiences, communicate and I think there is likely a case to be made for a "soul group" of sorts, or call it a "family".  I think we are likely helped with our decisions by this group and I do believe some beings choose to meet in another life, not "soul mates" in the way a romantic would imagine.  I think we do it to accomplish something, learn from each other or just to have fun.  I have met a few people with such an instant kinship that this is the only reasonable explanation I can come up with.
As I believe the creator gave all beings free will so I am pretty sure that whatever happens we control.  I also believe as an energetic being free of the physical world that we likely have more control after death then during life in what we do, how we do it, where we go next, etc.
Yet again the reality is all of the above is what I think, not what I know.  I do know there is a part of us that can exist apart from the body.  Yet I can't know exactly what happens when that link is severed permanently, just as our made up Japanese friend could never understand American life from a 30 minute visit to JFK Airport.
The more important question for you is what do you think happens and why?  As a deist you are free to believe whatever you wish about this question, but logic and reason dictate that you should take a hard look at the why behind any belief that you make central to your life.
by