Christianity and Judaism Have Evolved – Let's Examine Why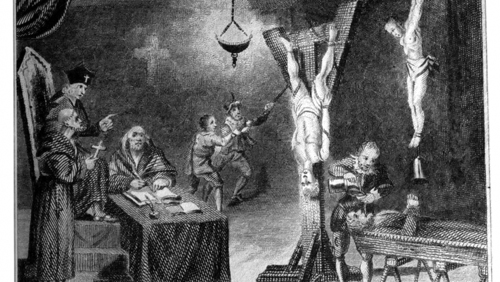 A common meme right now is that unlike Isalm the Jewish and Christian faiths have evolved.  That even though these faiths were used to justify some pretty horrible things, you know stoning people to death in direct accordance with the law for crimes such as disobedience to a father and other such things we just don't do that any more.  No more inquisitions, no burning or hanging witches and scorers, no more death or prison due to what they call blasphemy, etc.
Okay then I think I have a fair question to ask….
If the bible (old and new testament) are the actual word and commands of God himself, why would the faiths based on it need to evolve?
Don't get me wrong, I am glad they did.  I mean many things I say every day could have gotten me killed just few hundred years ago.  Oh please dear friends let that sink in deep.  Very, very deep.  These two faiths have killed people for thinking and saying things that simply disagree with them.  Yes they don't do it today, but when they did do it, they were absolutely following their book.
Now sure at times they may have gotten things wrong, or someone may have embellished a bit to see to their own agenda, but in the end, the book says what the book says.
Oh what, Jesus and the woman brought to him you say?  Oh I see he said "let he who is without sin cast the first stone" and everyone left right there?  That changed it all you say?  Really so Christians your bible then, it starts with the Gospel of Matthew right?  You got rid of all that old testament stuff then right?  No?  Um, why not?
Oh, I see Jesus also said, "I did not come to abolish the law but to fulfill it".  Well, well, so it is all still in place?  No.  Just parts of it?  Okay which parts, okay so no one is to be gay married, I see, what about eating shell fish and pork though, that is okay right?  Yea this makes perfect sense.
So you are saying that Jesus left a list somewhere saying you can do this now but not that, this is still wrong but don't stone people for it, just lock them up or deny them rights etc.?  Wait, that doesn't exist?  Okay, one more honest question then….
Where exactly does all your bullshit come from, in picking and choosing what is and isn't still in force from your own bible, which you claim is the unquestionable and 100% accurate, will of God almighty himself?
Okay so here is my answer to why religions like Christianity and Judaism have evolved, they had to, period.  They had to so that they could keep up with humanity's evolution.  As people began to realize how horrible it was to force people to believe as they believed, it was something else that evolved.  It is human rights that have evolved, not the faiths themselves.  They still have the same doctrine, the same rules, the book didn't change, nor has the adherents belief in said book.
And this is my point when I say that I personally don't believe in the bible or the God claimed to be the ultimate author of it.  To me if God wrote a book, his followers would not have to apologize for it a few thousands years down the road, talk around parts of it and pick and choose what to and not to comply with.
I would suggest to fully understand this you watch a TV Series called, The Bible Rules by the History Channel, it is fascinating.  You do begin to understand the logic, even when quite twisted of such rules.  The goal of the Hebrew people to remain set apart while living as nomads searching for a home.  The primary goal being to not be amalgamated into other cultures.  You also realize very quickly, this would not be how God would work.
These are rules written by men, to control other men, authored in the name of God to convey authority upon the commands and justification for punishments.
Even if God had these harsh rules in place to keep his people together, you would think one of the profits after the nomadic life was over would have said, "okay guys God said stop stoning people for minor crimes, you can have some bacon now and hey if you want hook up with the locals, just tell them how great our God is and he will do the rest".
No, that never happened and while Jesus did counter some things he didn't counter them all.  And when he countered them he did so as the Son of God meaning he had the authority to do so, not us, not a TV preacher and not a council of cardinals.
Personally I liked Thomas Jefferson's approach to the bible.  He tossed out the entire old testament, he removed all the miracles and such things from the new testament and left nothing but the core morality of the words of Jesus.  He while not believing in Christianity himself stated at that point, "this is the finest assembly of ethics ever created by man", and he wasn't talking about himself.  This book is called The Jefferson Bible and members of our congress were given a copy up until the early 1900s.
Jefferson saw the Christian writings as they were meant to be seen, a code, not a literal story, of how to treat each other, the truth that we are all sons and daughters of the creator and should treat each other as family.  Frankly I think that if God did write the book, he'd of just said that, in like say Chapter One.
Yes the truth is religion evolved because it is fundamentally flawed when compared with basic innate human rights, rights we all share as created beings.  I don't personally feel the creator would botch things up bad enough with his chosen religion for it to require evolution in order to keep pace with his own creation.
~~~~~~~~~~~~~~~~~~~~~~~~~~~~~~~~~
*Note the author of this article believes in evolution and simply sees it as a creative process of God.  To the author "God" is the singularity of all consciousness, time, energy and matter in the multiverses.  Not some guy with gray hair on a throne.  This should put his closing remarks in context.